California is all about living the good life. People are laid back, homes are designed to create a feeling of luxury and relaxation, and the "vibe" is something unlike anywhere else. You don't have to own a penthouse to have your home dripping with California style. Any home, even a fixer-upper that you're flipping, can give off the uniquely-California vibe that will have buyers banging down the door in no time. Let's hear a few interior design tips from the team at ZINC Financial!
Bright, Light, and White Rooms!
California is known for its glorious coastline and accompanying relaxed vibe. There are a few design trends to pull from this: 1) beachy colors, 2) light and airy feel, and 3) a sense of calm. One of the simplest ways to accomplish these things is to opt for paint or wallpaper that are light colors (white is hugely popular) with pops of bright, beachy shades. White or very light walls can really open up the space and highlight the natural sunlight that many California homes are lucky enough to have. Another tip to open up and brighten a room is to paint the ceiling! That's right! It may seem a bit unconventional, but it's a trend that's on the rise. You can even choose to paint the ceiling a pop of color like a sky blue, pastel yellow, or mint green! Just be sure that whatever you pick will match with the rest of the room.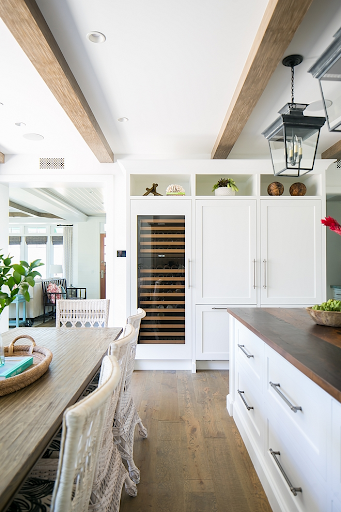 Photo by homebunch.com
Open Concept Everything
If you want some true California home design, you'll need to flip your house to make it as open-concept as possible. Walls really close up a space (literally) and Californians would rather promote a sense of togetherness and openness throughout the home. In your next house flip, see if it's possible to knock down walls that separate the kitchen from the living area and the dining room. Even if you can only remove portions of the walls, any open space you can add is better than none. An open-concept home feels much larger and prevents a disconnect from family members who are in different parts of the house. It's also a super modern trend which California loves. If you're limited by structural integrity there are a few ways to fake openness. Strategically-placed mirrors can make rooms look larger and can even reflect one room into the view of another to bridge the gap between them. You can also add cutouts similar to the windows in restaurant kitchens so that you can see from the kitchen into the next room even though you can't travel there without passing through a doorway. 
Photo by Decorilla
Coastal Inspirations
As we said, California home design gets a lot of inspiration from the Golden Coast. We recommend using coastal colors and shapes to get this style across in your flip. Blues, beiges, yellows, and greens are all great color choices for adding pops of color to your home. You can also add plants and water features to bring your home to life. We love giant floor plants and tiny windowsill succulents! Mix the foliage with some nautical rope, seashells, and sea glass and you have yourself a tropical paradise! Another common feature in coastal-inspired homes is driftwood or wood that looks like driftwood. There are plenty of lighting fixtures, coffee tables, cabinets, chests, etc., that all look like wood found on the shore. This is another way to easily give your next house flip the California style you want.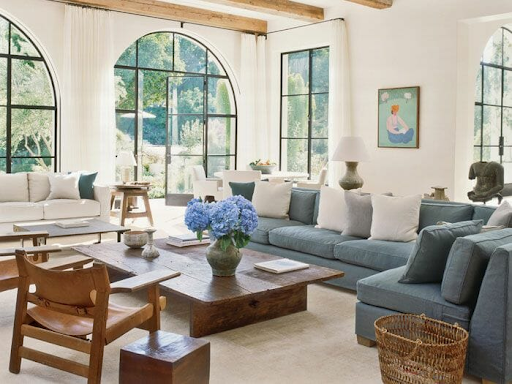 Photo by Decorilla
Flashy Bits and Pieces
Lastly, we suggest adding a touch of class and flash here and there. What's California without the luxurious lifestyle, right? Add some impressive chandeliers, glass-top tables, fancy wall hangings, ornate mirrors, and shiny knick-knacks and you've got yourself a California dream home. Avoid cluttering your home, but have a few items that make the room feel elegant and important. It's the fine details that can really put a home over the edge and get people talking about it. Use your best judgment to avoid being gaudy and eccentric. Aim for a refined class that any potential buyer would appreciate.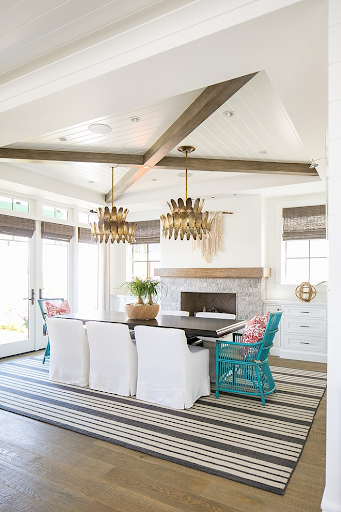 Photo by homebunch.com
If you use these design tips in your California home design, you'll have an amazing finished product. California style is very unique, but it isn't very hard to master. With a few tweaks to your interior design plans, your fixer-upper can be flipped into a Golden State masterpiece! If you need some help funding your next flip, call Zinc Financial at (559) 326-2509! We specialize in rehab loans for house flippers so that you can complete your project without worrying about financing. Get the funds you need faster with Zinc and get your flip going! Apply for a rehab loan for flippers on our website and see what ZINC Financial can do for you.